Having a child is a time of many rewarding, wonderful things. Landscape photography is not one of them I have found! I've been bunkered down for the last few weeks helping Lisa and have hardly been out of the house let alone on a shoot. What has made it even more challenging are the brand new set of filters in classy brown cases just sitting there looking at me like "Hey, I know its awesome you just had a baby.. but look at us.. we have needs too!"
I have recently jumped aboard the NiSi train and as I'm sure any self respecting landscape photographer would understand - I've been itching to get out and use them! I wouldn't normally jump on board with a company who's product I haven't tried - but I have heard such great things about NiSi that it was really a no brainer. Please note - Despite being an ambassador, I will only be giving honest, unbiased reviews of the NiSi products. I am under no obligation to sugar coat anything and am encouraged by NiSi to just represent my experience with the filters. If I come across any issues I won't be afraid to talk about them.
About a month ago I received the filters in the mail and the first thing that struck me were the hard brown cases. One case to hold 6 filters and the other for the holder and adapters. I love quality products and brands that pay attention to detail and these cases with their magnet clasp are pretty awesome. When it comes down to it though, the cases aren't going to help me take a good photo and I was hoping the actual filters would impress even more. I had heard about the CPL (Circular Polarising Filter) on the Nisi system which screws into the adapter - and for me it sounded like a brilliant idea. I have been using a monster 105mm CPL screwed to the outside of my Lee Filter Holder and aside from the vignetting it causes and difficulty in rotating, its just big and clunky and prone to catching on things. Turns out the NiSi CPL system is pretty bloody genius. It is so easy to rotate and for me it is a real game changer for landscape photographers.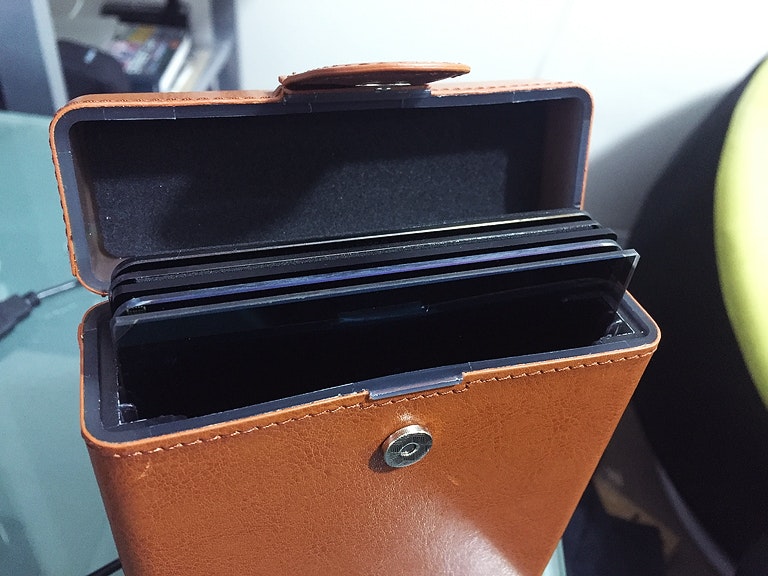 The filters fit nice and snug in the NiSi storage box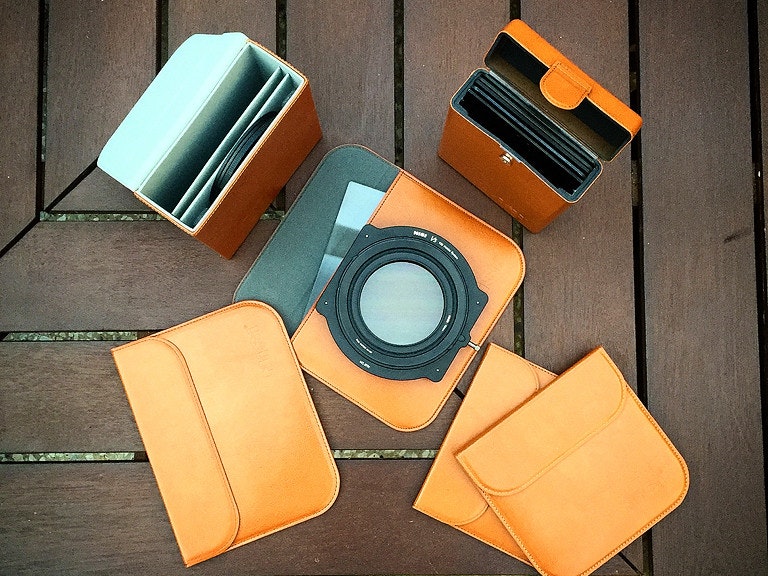 So anyway - I ended up getting a free pass out of home for the evening and decided to head to Port Noarlunga on Adelaide's south coast. I have always wanted to shoot the river mouth and I also hoped to shoot the jetty as part of my 'Walk on Water' series.
My standard go to setup for late afternoon light is an ND grad and an ND 6 stop, so that's what I went with first up. I also had the CPL attached to cut through some of the glare on the water. In the past this particular setup would result in vignetting at 16mm for me and my old 0.9 grad was never quite dark enough in bright conditions. NiSi however have a 1.2 grad which has always seemed a much more useful strength IMO. I found the grad was a very tight fit in the filter holder which made it a bit tricky to insert and remove while standing on the edge of a cliff though. This isn't a huge deal for me as I generally take my holder off when replacing filters, but I guess it could get a little frustrating if trying to change a filter in a hurry. I had been shooting for a few minutes before I suddenly remembered I had a CPL on and I probably should try rotating it! It's that stealth I had completely forgotten it was on.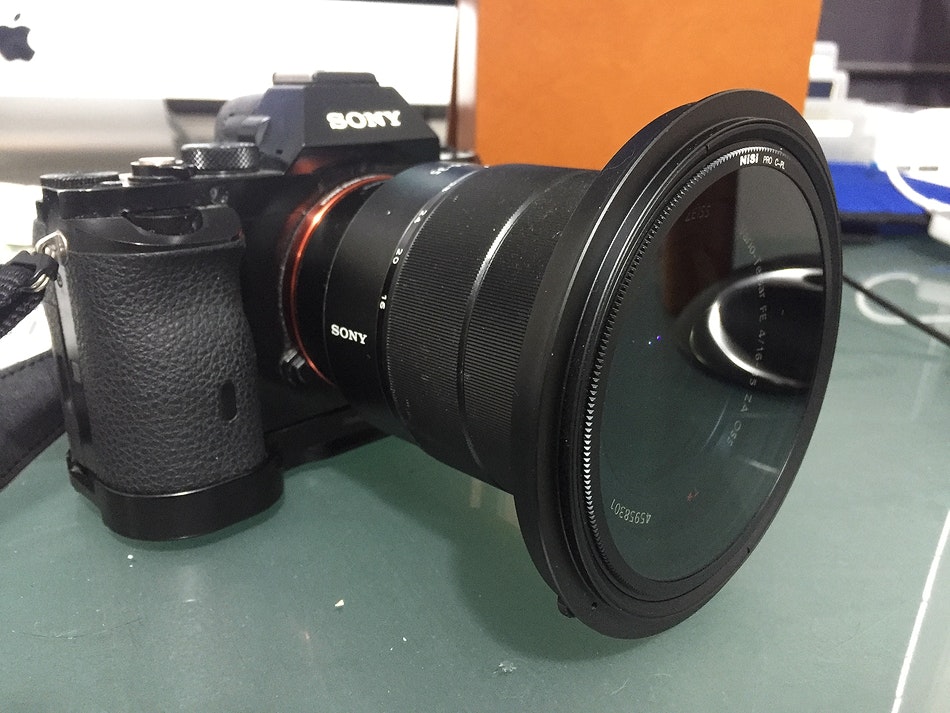 Old Faithful sporting the new NiSi adapter with CPL
I had been hoping the CPL would be of a lesser strength than my previous B+W one and thankfully it was spot on. It did a great job of eliminating reflections while not giving too much of an ND effect. I haven't used it with daytime blue skies yet though, so not sure how dark the polarisation is in those scenarios at 16mm.


Taken before the light got nice but these unedited RAW files showing the effect of the CPL and lack of vignetting
One of the big things I had heard about NiSi was the lack of colour cast in their 6 and 10 stop filters. Good light doesn't last long and I don't want to be messing round with custom white balances to compensate for filters and potentially miss out on good shots. I am still yet to test the 10 stop but the 6 stop had no colour cast at all which made for some very pleasing in camera shots... Something I was often not used to with my old setup.
Something that has long been an issue for me with filters is shooting directly into the sun. The direct sun on my old filters always seemed to create very ugly flare and spots, forcing me to often take my filters off when shooting into the sun. (especially when shooting with multiple filters + A CPL) Below is an image into the sun with the ND 1.2 Grad, The ND 6 Stop and the CPL. if you look closely you can see a small flare circle to the right of the sun, but other than that - spotless!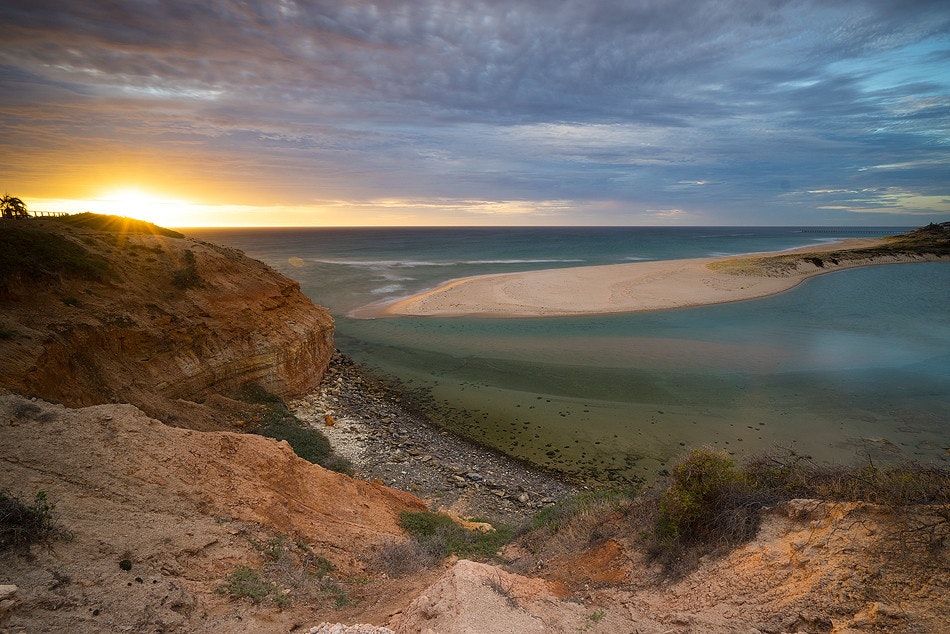 While this wasn't a full on shoot to give all my new filters a real work out - it was enough for me to realise I had made the right decision switching to NiSi. They are quality filters that address concerns landscape photographers have had with rival brands.

Below are my initial list of pros and cons for those considering making the switch. I will write more later when I've had further experience using the NiSi system - but its a pretty big thumbs up from me at this stage. Phew... it would have been a bit awkward if NiSi were stuck with an ambassador that hated the product ;)
Pro's
— Hard case that holds 6 filters making finding and changing filters quicker and easier
— No vignetting at 16mm
— No colour cast
— CPL screws inside the adapter and can be rotated by dials on the inside
— NiSi have a 1.2 ND grad
— The filter holder seems to attach to the adapter more securely than other brands I have used
— Very little flaring and spots when shooting into sun
Con's
— Fingerprints may get on CPL when removing as it is flush with the front of the adapter
— The 1.2 grad seemed to fit quite tight in the folder holder